COVID-19: NO ONE IS SAFE UNTIL ALL ARE PROTECTED!
March 18, 2020
Currently there are tens of thousands of refugees and other migrants in the Balkans. Some of them are accommodated in official collective centers, while a large number of people fall outside the system, surviving through the help of the local population and support provided to them by volunteers throughout the region. Yet with the spread of the COVID-19 virus, the already difficult situation in which they find themselves is becoming even more challenging and demands urgent action of those in charge – local and international actors – and solidarity from all of us.
The State of Emergency now in force in many countries of the region is a basis for the continuation and reinforcement of social inequalities and unfortunately is already serving as a rationale for the further stigmatization and repression of the most unprotected among us. But this exceptional situation must not become an excuse for continued politics of exclusion, restriction and expulsion, suffering and distress.
The fear for our own lives and the lives of those around us that we are faced with currently have for many been everyday realities for much longer. These uncertainties of the present lead us to radically question the system of geopolitical hierarchies, racial and class distinctions that divide and rank us, producing a population of undesired and rejected people across the world and in our countries alike. In these conditions we are left with nothing more than to work towards the removal of imposed inequalities based on social and citizenship status.
We therefore call for an end to all official and unofficial discriminatory and dehumanizing practices, for the end of violence at the borders, and for the legalization of everyone's existence, for the closure of all forms of detention and collective centers that restrict freedom of movement and fail to secure humane and hygienic conditions. As individuals we call for an affirmation of the values of equality and freedom, appealing to acts of care and solidarity.
At the same time, as a form of emergency measures, we demand of the member governments of the European Union, the states of the region, and all relevant institutions and organizations to ensure that all who are forced to live on the street, in abandoned buildings without minimal sanitary conditions, or in inadequate collective centers are systematically provided accommodation in humane, safe, and sanitary conditions. We call for adequate and healthy living conditions to be secured for all, that public and other (unused, privately owned) buildings, including tourist facilities, should be put to use for this purpose. In a pandemic such as this, basic accommodations for all vulnerable people needs to be the priority of all responsible public policies and states.
In that sense, we remind that the European Union and especially the European Commission bear particular responsibility towards refugees and other migrants "stuck" in our countries. As they have openly shown with their recent actions on the Greek-Turkish border and other borders, they want to keep refugees and migrants out of their territory at all costs and using any means.
Within the framework of measures envisioned and implemented by local and state authorities as well as international organizations like IOM and their partners that have in some states of the region taken on a leading role in work with refugees and migrants, we ask for the immediate formation and activation of mobile teams to bring water and food, disinfectants, cleaning supplies, and toiletries to all those in need living outside the camps. Citizens should be included in this process without restrictions, on a voluntary basis and in line with the recommendations of health and epidemiological specialists.
We call on citizens, local and international volunteers in the region who wish to help in whatever way to respect the instructions of health experts and epidemiologists in order to reduce the possibility of putting themselves and those they help at risk. We call on everyone to cooperate and coordinate their work because only in this way can we conquer the pandemic of fear and reduce the serious risks that the most unprotected among us face.
In addition, we ask that people who already live in collective centers across the region are offered adequate protection and quality nutrition as well as hygienic conditions that support basic human dignity. Among them are many who fall into vulnerable categories such as those with chronic diseases or people with weakened immunity. It is necessary to improve care especially for these people. The collective centers in Bosnia-Herzegovina, which are managed by IOM, are probably in the worst state and below every measure of dignity. The majority of them are overcrowded, without adequate conditions for maintaining regular hygiene, regular access to warm water for bathing or clean water for drinking, and basic materials for personal hygiene and disinfection. Those responsible should provide these basic resources at all times, not only under conditions of pandemic.
We ask for the engagement of all who have the capacity and duty to act: UN agencies and their partners, especially IOM which has the greatest jurisdiction, Doctors without Borders, the International Red Cross and their local branches, Danish Refugee Council, Merhamet, Caritas, and all other organizations and groups that are in any case involved in the care of people on the move.
Finally, we demand that all people be equally afforded unrestricted access to the health care system, that people on the move – refugees and migrants – are treated without discrimination, and that concrete measures for their protection be made part of all measures for the protection of the population as a whole. We demand that people are provided with access to information in languages they understand about this virus, how it functions in local micro-contexts, as well as about how it spreads from person to person and how to protect oneself from contracting it. In the battle against this pandemic, leaving out one part of the population from protection measures will cancel out all other efforts to stop the spread of the virus.
Our governments are required by law to ensure access to emergency treatment for all people regardless of status, which COVID-19 will require for many. For this reason, we also call on the authorities to make available regular and free medical treatment for this population, especially in cases of people contracting the virus or when there is reason to suspect contagion. At the same time, this situation requires caution and openness while calling us to maintain organized support to refugees, migrants, and other groups at risk. This is required of us out of elementary humanity as well as the basic logics of public health because no one is safe until we are all protected!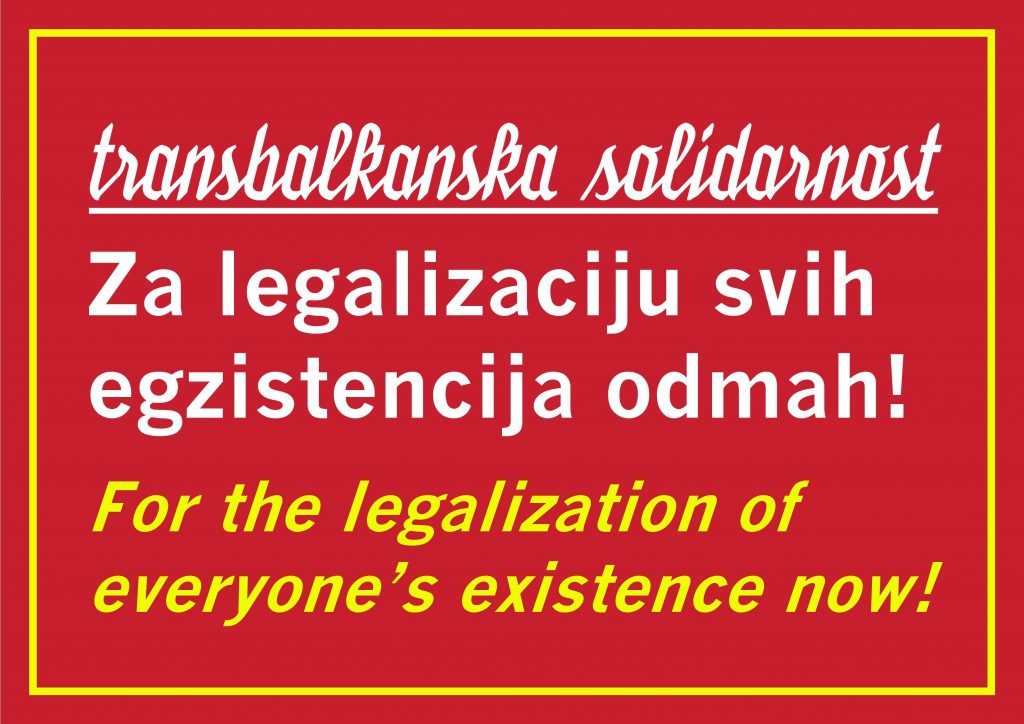 +++
COMMON STATEMENT: TRANSNATIONAL SOLIDARITY AGAINST RACISM AND WAR!
March, 2020
Hundreds of groups and organizations worldwide sign multilingual statement demanding peace, fundamental rights and freedoms of every person on the move.
Common statement: Transnational solidarity against racism and war!
Five years after the so-called "refugee crisis" and almost four years after the EU-Turkey deal, we are once again witnessing the violence caused by security-centred migration policies. Since last Thursday (27.02.2020), thousands of people have been moving towards the Turkey-Greece border following the announcement that migrants wanting to reach Europe will no longer be stopped on the Turkish side. The announcement from Turkish government officials came after the death of 33 Turkish soldiers in the Idlib area, where conflict escalation has seen the civilian death toll rapidly increase by the day, with basic infrastructure and health facilities being blatantly fired at. Turkish government keeps its borders with Syria closed while seeing no harm in pushing thousands of migrants towards the doors of Europe, into a limbo.
Migrants and asylum seekers from Syria, Afghanistan, Pakistan and several African countries have been reaching the border-crossing areas of Edirne, Çanakkale, and İzmir; some were brought there by buses of municipalities, some arrived by private taxis, or walking. In the Edirne area, they have been allowed to proceed to the border zone by the Turkish authorities, but Greek police forces prevented them from passing with gas and sound-lighting bombs. At the same time, Turkish authorities restricted the access of journalists and reporters. Those stuck in the grey zone between the two states under heavy rain and with scant food supplies have been shouting for the opening of the borders. Some of those who reach the land border were told by the authorities to cross by sea despite hazardous weather conditions.
In Greece, the scenario is also worsening. The government has recently passed a new stricter and even more inhumane law on asylum entailing detention upon arrival to the Greek territory for all new asylum seekers. In the past days, local communities on the islands of Chios and Lesbos have been clashing with riot-police in opposition to the establishment of new detention facilities. Under the burden of the so-called "refugee crisis" since the EU-Turkey deal, they have been protesting against the deterioration of their own living conditions and of the living conditions of those seeking asylum there. However, xenophobia and racism have never stopped infesting the public discourse. In reaction to the latest events, Greek government officials have been fuelling hatred and fear by spreading the myth of an invasion by "illegals" at the behest of its neighbouring country.
Xenophobia, racism and their normalisation must be opposed everywhere they surface, be it in Turkey, Greece and anywhere else. The instrumentalization of the lives of migrants, asylum seekers and refugees reduced to a threat and a bargaining chip must end, both in domestic electoral campaigns and in the relations between the Turkish government and the EU. The security policies that push thousands of already displaced people into a limbo and the border regimes that cause the endless cycle of violence against them must cease. What we demand are peace, fundamental rights and freedoms of every person on the move.
Borders are killing, open the borders!
Stop the war on refugees & migrants!
Transnational solidarity against racism and war!
For a free world without borders, exploitation, and exile.
+++
UPDATE: PUSH-BACKS THROUGHOUT EUROPE'S BORDERS
December 2019
In June this year we have launched the Push-Back Map (pushbackmap.org), documenting and denouncing the state practice of push-back, denying the freedom of movement, protection and dignity for everyone crossing borders into and within the EU.
The map aims to archive and visualise these systematic and violent state practices since the closure of the Balkan Corridor in March 2016. The EU border regime continues to forcedly send thousands back across its internal and external borders, constantly re-writing and contradicting its own legal frameworks, Often, camps are set up to contain, deter and despair those looking for safety and a better future.
The data on the map is growing, yet it is still far from representing the actual scale of push-backs. As push-backs are happening on a daily basis, the violence of these acts are normalised, the individual cases are uncountable and EU member states are no longer afraid to acknowledge it. The Croatian president admitted in the beginning of July that border guards are using "a little bit of force" to protect the state border.
Nonetheless, individuals, groups, organisations and collectives remain committed to document and listen to each and every person's story of struggle, violence but also determination to move on and push forward their own fights. It is their struggles and endless efforts we want to shed a light on with a short overview over the recent happenings at Europe's various borders and the increase of reports in different areas:
Balkan Route:
Thousands of people are stuck in the snow at the doorstep of the European Union, in Bosnia and Herzegovina, in the horrendous Vučjak camp and other places next to the Croatian (EU) frontier. This is the direct result of EU border and visa policies and the extensive use of push-backs, as a method of deterrence and expulsion. The below screen shots of the push-back map show the increase in push-back practices from 2016 till today. The map also clearly shows how the route moved since 2017 from the EU-Serbian border to the EU-border with Bosnia and Herzegovina. The European Union and non-state organisations continues to finance and support the construction of new camps and other facilities intended to contain, discriminate and harm everyone who does not have enough luck or means to move on.
2017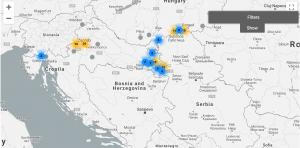 2018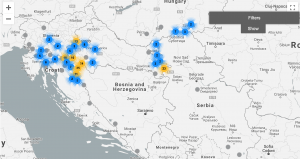 2019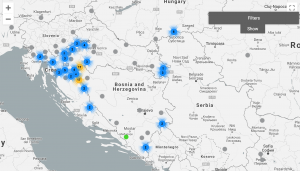 More and regular information on pushback in the Balkan Region you can find here:
https://www.nonamekitchen.org/en/
http://welcome.cms.hr/index.php/en/
https://medium.com/are-you-syrious/digests/home
Central Mediterranean Sea/Libya:
Pull- and Push-Backs to Libya are happening more and more frequently. Most of the time, the European public hears nothing of these practices by the so-called Libyan coastguard. Over the course of only four days in November, the Alarm Phone reported that around 1,500 people were trying to flee Libya. 190 of them have been confirmed to be pushed-back to Libya, while many remain unaccounted for:
https://alarmphone.org/en/2019/11/26/four-days-of-struggle/?post_type_release_type=post
Western border: Morocco/Spain:
The Alarm Phone has also recently published an update on the underreported situation of people in Morocco trying to reach Spain, including reports of push-backs from the Spanish enclave Ceuta:
https://alarmphone.org/en/2019/11/12/the-hidden-battlefield/?post_type_release_type=post
Turkey/Greece: Evros Region
The Spiegel has reported on the massive amount of push-backs collected by the Turkish border guards. They have counted an enormous number – more than 60.000 people – pushed-back by Greek authorities across the land border to Turkey in 2019, of which more than 6500 in October alone:
https://www.spiegel.de/politik/ausland/griechenland-soll-zehntausende-migranten-illegal-in-die-tuerkei-abgeschoben-haben-a-1295964.html
Mobile Info Team has also just published a report on the push-backs in the Evros region:
French/Italian Border:
The collective Kesha Niya is publishing weekly summaries on people who are pushed-back by French authorities. The recent weeks they encountered more than ever before: 631 people were pushed-back to Italy. They also reported on increase of violence and theft:
North-Eastern border: Poland / Belarus:
This border area is among the most underreported external EU borders, but push-backs happen there regularly as well. Borderline Europe has recently published a report on this border, accounting of similar practices as in other regions of the EU: ignoring peoples claims and expelling them back across the border:
Many more border crossings are putting an obstacle and danger to people on the move. Borders such as the Austrian-German border become increasingly hard to reach; nonetheless they are policed until today, prolonging intra-Schengen border controls since 2015. The many reports of violent push-backs and deaths from the Balkan region and other areas are a direct result of externalization processes of the EU. The indignation many media reports display at the sight of the unbearable and outrage living conditions for migrants in Bosnia should therefore be directed towards EU migration policy, which continues to pump more money to "secure" borders, increasing FRONTEX budget, staff and militarised technical equipment.
+++
PUSH-BACK MAP IS ONLINE!
June 18, 2019
After long months of discussions, preparations and meetings we have finally managed to launch this page. You can read more about our collective and aims here.
We perceive the map as a crowd-based grassroots tool to display the ongoing violence of the border regime. Let's work together to make it happen!
More relevant translations will be uploaded soon. Our collective doesn't receive big funds and nobody is employed for this project, that is why all additions and changes will need some time.
Please let us know if you have any advice, questions or suggestions!